Truck Accident Attorney in Conroe, TX
Texas Truck Accident Cases
The National Highway Traffic Safety Administration (NHTSA) defines large trucks as any medium or heavy truck. To clarify, this excludes buses and motorhomes but includes any vehicle with a gross vehicle weight rating (GVWR) greater than 10,000 pounds. Historically, the vast majority of large trucks involved in fatal crashes are much heavier, though. Often, these trucks weigh more than 26,000 pounds—up to 80,000 pounds.
Because these vehicles are much larger and heavier than traditional passenger occupant vehicles, commercial truck drivers and trucking companies have additional rules and regulations they must follow to keep others on the road safe. When they violate these regulations or are otherwise negligent, they can be held accountable.
If you or someone you love was involved in a car accident with a large commercial truck anywhere in the Greater Houston Area or the state of Texas, reach out to our Conroe truck accident lawyers at Scott Law Firm. With a proven record of success in complex personal injury and wrongful death cases, our team has what it takes to go up against major trucking companies and their insurance providers.
Your initial consultation is free, and there are no fees unless we win your case. Contact us online or call (936) 243-4299 today to learn more.
On This Page:
Truck Accident Statistics
Large truck accidents are far more common than many people realize. Below, we've compiled some of the most alarming statistics from the Federal Motor Carrier Safety Administration's Large Truck and Bus Crash Facts 2019 (the latest report currently available).
According to the FMCSA, in the U.S. in 2019:
There were 5,237 large trucks involved in crashes resulting in fatalities
There was a slight increase (about 1%) in the number of fatal truck accidents from 2018 to 2019
There were about 127,000 injury crashes involving large trucks and buses
There was a 13% increase in the number of injury crashes involving large trucks and buses from 2016 to 2019
Since truck accident cases in Texas and all over the nation often involve local, state, and federal investigative agencies, these cases are much more complicated than accident cases involving standard cars and trucks. After an accident involving a semi-truck, 18-wheeler, big rig, or other type of commercial trucking vehicle, it's essential to get in touch with a personal injury attorney with proven truck accident case experience as soon as possible.
Federal Trucking Regulations
The Federal Motor Carrier Safety Administration (FMCSA) is the organization that regulates the commercial trucking industry. Tractor-trailer drivers and commercial trucking companies have to comply with regulations involving loading, hours of service, maintenance, tire safety, brakes, driver training, and a wide variety of other safety issues to ensure everybody on roadways across the nation is safe.
In addition, large semi-trucks, some weighing up to 80,000 pounds, can't stop on a dime, so drivers and trucking companies have to make sure all brake, tire, and mechanical maintenance is in top working order at all times. Therefore, if drivers or trucking companies are negligent about truck maintenance or fail to comply with all federal safety regulations, they're putting lives at risk.
If a truck driver, trucking company employee, or trucking company itself violates any federal or state regulations, the trucking company can be held legally liable for accidents and damages that result.
Common Truck Accident Causes
While trucking regulation violations are one cause of truck accidents, these collisions occur due to a variety of factors, from truck driver error to poor truck maintenance to general negligence.
Some of the most common causes of truck accidents include:
Fatigue
Improperly loaded trucks
Poorly maintained trucks
Excessive speed
Lack of driver training
Defective equipment
Overloaded trucks
Not obeying traffic laws
Violating hours-of-service laws
Failing to check blind spots
Failure to yield the right-of-way
Distracted Driving
It is not just the drivers of passenger cars who drive distracted; some commercial truck drivers in Texas do their fair share of texting, not to mention eating and drinking behind the wheel. Distracted driving is a major factor in many truck wrecks, and it should be a big part of any post-crash investigation. In addition to smartphones and similar distractions, many trucking companies build sophisticated electronics into their vehicles, further increasing the danger behind the wheel.
Truck Driver Fatigue
Sleep deprivation and fatigue can have similar effects on the body as alcohol intoxication. As a result, drowsy drivers are dangerous drivers. We've all heard frightening stories of truckers driving all day and night. Although there are hours-of-service regulations that restrict the amount of time a driver can stay on the road or how much rest time they must take, this doesn't prevent all cases of drowsy truck driving.
Paper logbooks, industry-wide standards, and other issues can sometimes keep these laws from being strictly adhered to and lawfully abided. Many advocates are calling on stricter hours-of-service regulations and computerized logs to increase accountability and ensure truck drivers are awake and alert behind the wheel. However, truck drivers falling asleep at the wheel isn't the only concern either. Even if drivers do manage to stay awake behind the wheel, their reaction times and decision-making capabilities can be greatly impacted by long-term sleep deprivation and fatigue.
Speeding and Other Traffic Law Violations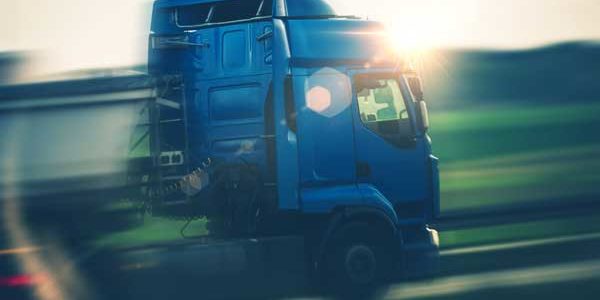 With bonuses paid for on-time deliveries and trucks traveling vast distances in short periods of time, sometimes speeding is baked into the commercial driving cake. Speeding, running red lights, and other traffic law violations are often causes of Texas truck accidents.
These violations happen and contribute to a truck crash so finding out if they are contributing factors is key. A good truck accident attorney in Conroe, Texas will review the documentation, talk to investigators, and get to the bottom of the situation.
Drug and/or Alcohol Intoxication
No one wants to think about commercial truck drivers drunk or high on drugs. Unfortunately, there are semi-truck crashes resulting from these factors. When the root cause of a truck crash is alcohol and/or drugs, then results can be truly devastating. Fortunately, a personal injury attorney may be able to bring a lawsuit against the establishment that served the drunk driver alcohol prior to the crash.
Overloading and Improper Loading
Tractor-trailers are large and imposing vehicles, but they are also surprisingly delicate. Improper loading could cause the cargo to shift on highway ramps or during emergency maneuvers. This could cause the commercial truck driver to suddenly lose control. In other cases, overloading can cause a truck wreck. Adding more cargo than the semi-truck was designed to handle is dangerous.
Improper Truck Maintenance
Some trucking companies may attempt to cut costs and corners or maintenance simply gets put off. Sadly, that lack of care can lead to a deadly truck accident in Texas. The root cause of a truck crash resulting from poor maintenance could be because of sudden tire delaminating and blowouts to brake defects and issues with the headlights. These mechanical failures can cause the commercial truck driver to lose control, triggering a chain reaction crash and serious injuries.
Injuries Associated with Trucking Accidents
Truck accidents are usually devastating for occupants of smaller cars, SUVs, and light trucks. For instance, if your small car goes up against a nearly 80,000-pound big rig, you can imagine what the outcome is going to be. Truck accidents can be catastrophic and deadly for drivers and passengers in smaller vehicles.
Common truck accident injuries include:
Cuts and lacerations
Amputations / limb loss
Fractured / broken bones
Internal organ damage
Death
Medical bills associated with 18-wheeler accidents can be astronomical, all while you're out of work and trying to make ends meet.
Damages in Truck Accident Cases
Because the injuries associated with truck accidents—and their impacts—are so severe, it's important that you have an attorney on your side who can help you fight for the maximum compensation you are owed. At Scott Law Firm, we strive to help our clients recover for all past, current, and future damages associated with the accident.
Depending on the specifics of the accident, you may be entitled to compensation for:
Emergency medical care costs
Ongoing medical treatments and therapies
Future medical expenses
Past, current, and future lost wages
Lost or reduced earning ability
Pain and suffering, including emotional trauma
Counseling services
Funeral/burial expenses (in the event of wrongful death)
Loss of love, companionship, support, and guidance (also in the case of wrongful death)
Reasons to Hire a Conroe Truck Accident Lawyer
There are a variety of reasons why you should consider retaining the services of a truck accident lawyer to assist you with your lawsuit. While you can technically file a lawsuit on your own without an attorney's help, doing so can be a difficult, time-consuming, and highly complex process with a large potential for error.
Having someone else on your side who has gone through the process before can protect you against costly pitfalls and allow you to focus on your physical recovery. A lawyer can take care of the details, advocate on your behalf, and help you get the compensation you deserve for your injuries.
Truck Accident Frequently Asked Questions (FAQs)
Being injured in a trucking accident is a confusing, frightening, and oftentimes life-changing experience that will undoubtedly come with many questions. To help put your mind at ease, our firm has compiled some answers to some of the most frequently asked questions about trucking accident lawsuits in Texas.
How will my medical bills be paid?
The liable party's insurance company will ultimately be responsible for paying your medical bills, however this money will not actually be paid out until a settlement or verdict is reached. In the meantime, your immediate medical expenses may be covered under your personal health insurance policy, if you have one. Additional medical coverage may be available under your auto insurance policy in if you have elected to purchase personal injury protection (PIP) coverage.
Unfortunately, truck accidents often result in severe injuries that exceed the limits of the victims' insurance policies. If this is the case for you, your attorney may be able to issue a letter of protection guaranteeing your health care provider will be reimbursed for the cost of your treatment from any future verdict or settlement that is reached.
Will I have to appear in court for my truck accident case?
It is unlikely that you will have to appear in court, though it is always a possibility. Most personal injury cases, including those related to trucking accidents, are resolved in the form of an out-of-court settlement negotiated between the liable party's insurance company and the injured plaintiff's attorneys. Filing a lawsuit and going to trial is usually only necessary if a fair settlement cannot be reached, or if there is a dispute over who is liable for the collision.
While a trial may sometimes be necessary to secure a greater monetary award, there is always the risk that you will lose and come away empty handed. Our attorneys prepare every case as if it were going to trial to give you the best possible leverage during the settlement negotiation process.
How much does it cost to hire a truck accident lawyer?
You will not have to pay anything upfront to hire a truck accident attorney at Scott Law Firm. We accept all truck accident cases on a contingency fee basis. In short, this means that we will cover the costs of handling your case and will only require payment if we are successful in your case.
Instead of a traditional retainer, our fee will be charged as a percentage of any verdict or settlement we secure on your behalf. If we do not win, you do not pay us anything.
Talk to an Attorney at Our Firm for Free Today
If you or someone you love was involved in a collision with a large, heavy truck anywhere in the Greater Houston Area, reach out to Scott Law Firm right away for the trusted legal representation you need.
The state of Texas imposes a two-year statute of limitations on nearly all truck accident claims. This means you typically only have two years from the date of the accident to file your claim. Do not wait to contact our firm to speak to a Conroe truck accident lawyer about your legal rights and options.
Call (936) 243-4299 or submit an online case evaluation form to get started. Hablamos español.
"Scott Law Firm was truly the rainbow in the midst of a storm! The staff was the exemplar of professionalism"

- Mya C.

"Scott Law Firm did an amazing job assisting me after a motor vehicle accident that left me injured."

- Austin E.

"Their professionalism, service, and care for their community is above and beyond! I highly recommend their office!"

- Hector R.
Focused & Dedicated Attention Tailored to Your Unique Needs and Situation

Team of Knowledgeable Attorneys Who Focus on Your Case, So You Can Focus on Your Recovery

Free Consultations and No Fees Unless We Win on Your Behalf

Committed to Delivering Quality Representation to the Conroe Community